Basic Meta-Model (BMM)
Amendment Record
Issue
Details
Raiser
Completed

Separate P_BMM model and syntax to BMM Persistence specification;
refactor / tighten class model:
rename BMM_GENERIC_PARAMTER to BMM_PARAMETER_TYPE;
remove BMM_OPEN_TYPE; remove BMM_TYPE_ELEMENT;
add new type BMM_DEFINED_TYPE as parent of BMM_SIMPLE_TYPE and BMM_GENERIC_TYPE;
add new type BMM_UNITARY_TYPE as parent of BMM_DEFINED_TYPE and BMM_PARAMETER_TYPE;
redefine BMM_CLASS.ancestors to be of type BMM_DEFINED_TYPE;
redefine BMM_PARAMETER_TYPE.conforms_to to type_constraint of type BMM_DEFINED_TYPE;
correct BMM_CLASS.immediate_descendants to be of type List<BMM_CLASS>;
rename BMM_CLASIFIER to BMM_ENTITY;
Support generic types as class ancestors;
Remove archetype-related meta-data.

T Beale

2.2.2

Improve and update introductory text in the Overview section.

E Sundvall,
T Beale

03 Nov 2017

2.2.1

Remove BMM_CLASSIFIER.conformance_type_name;
Constrain BMM_GENERIC_PARAMETER.name to one character and upper case.

C Nanjo,
T Beale

02 Mar 2017

2.2.0

Rename BMM_CLASSIFIER.as_type_string to type_name and as_conformance_type_string to conformance_type_name.
Move and rename BMM_TYPE.as_display_type_string to BMM_CLASSIFIER.type_signature. Add redefinitions in relevant descendant classes.
Rename BMM_SIMPLE_TYPE_OPEN to BMM_OPEN_TYPE.
Add new class BMM_TYPE_ELEMENT in preparation for BMM 3 refactoring.
Rename BMM_SCHEMA to BMM_MODEL.

T Beale

20 Jun 2016

2.1.0

Initial writing based on ADL Workbench implementation.

T Beale

08 Feb 2016
Acknowledgements
Contributors
This specification has benefited from formal and informal input from the openEHR and wider health informatics community. The openEHR Foundation would like to recognise the following people for their contributions.
Patrick Langford, NeuronSong LLC, Utah, USA

Claude Nanjo MA African Studies., M Public Health, Cognitive Medical Systems Inc., California, USA

Harold Solbrig, Mayo Clinic, Rochester, USA

Erik Sundvall PhD, Linkoping University, Sweden
Trademarks
'openEHR' is a registered trademark of the openEHR Foundation;

'Java' is a registered trademark of Oracle Corporation;

'C#' is a registered trademark of Microsoft;

'OMG' and 'UML' are registered trademarks of the Object Management Group;

'MagicDraw' is a registered trademark of NoMagic Inc;

'Rational Software Architect' is a registered trademark of IBM Corporation.
3. Model Access Package
3.1. Overview
| | |
| --- | --- |
| Note | This package is considered informative within this specification, not normative. |
The model_access package provides an interface for the application to load BMM schemas and convert them to BMM model form, and is shown below. In this model, a schema is a concrete serial form of a model or part of a model. One or more schema files are parsed, validated and then converted to create a single BMM_MODEL instance.
Figure 4. base.bmm.model_access Package
More than one format for representing serialised BMM models is possible, each having its load, validation and error-reporting logic. The common elements of the load, validate and convert logic are defined by the non format-specific classes in the package, with specific forms of the classes BMM_SCHEMA_DESCRIPTOR and BMM_SCHEMA required for each concrete format. The package above shows the relevant classes for the P_BMM version 2.x format, which is normally saved in .bmm files. Other formats may be saved in files with different extensions.
The singleton class BMM_MODEL_ACCESS acts as the entry point for client software to obtain access to loaded BMM models. Since the latter start as schema files which are typically nested according to an 'include' hierarchy, they must be parsed, validated and merged to create each 'top-level' model. The schemas are accessed via instances of the BMM_SCHEMA_DESCRIPTOR object, one for each schema file. The load() routine loads a BMM schema file by direct deserialisation.
If the file is structurally correct (say ODIN, JSON etc), an in-memory schema instance will result (e.g. P_BMM_SCHEMA in the case of the P_BMM format), and its validate_created method called. If this succeeds, SCHEMA_DESCRIPTOR.schema will be set to this instance. Subsequently, schema.merge() will be called repeatedly, which results in each schema instance being the merged result of its include children and itself. After merging, BMM_SCHEMA_DESCRIPTOR.validate_merged() will be called, and if successful, a call to create_model() will result in BMM_SCHEMA_DESCRIPTOR.model being populated.
Each successfully loaded model is thus instantiated as a BMM_MODEL, and referenceable via BMM_MODEL_ACCESS.valid_models, which keys models by model identifiers (BMM_SCHEMA_CORE.identifier). The methods model_for_namespace() and model_for_namespace() are used to access a given model for a namespace to which the model applies.
The following screenshot shows the BMM schema configuration dialog in the AWB, including some meta-data, validation status etc, and also the schema nesting structure. A single hierarchy of schemas corresponds to a single instantiated BMM model.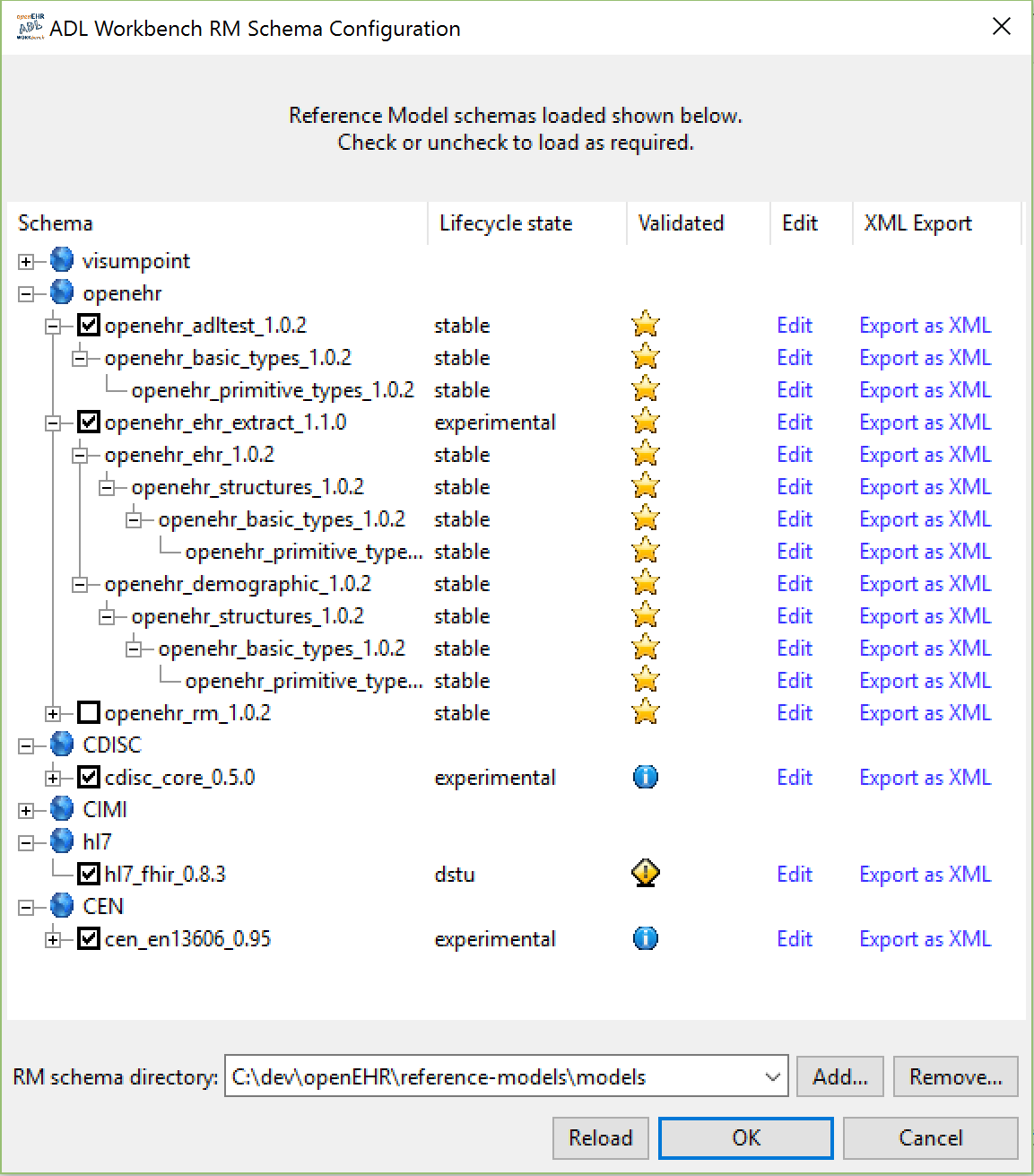 Figure 5. BMM schema configuration
The screenshot below shows a number of merged BMM models loaded into the AWB, including some of the packages and classes for the openehr_ehr_extract_1.0.4 model.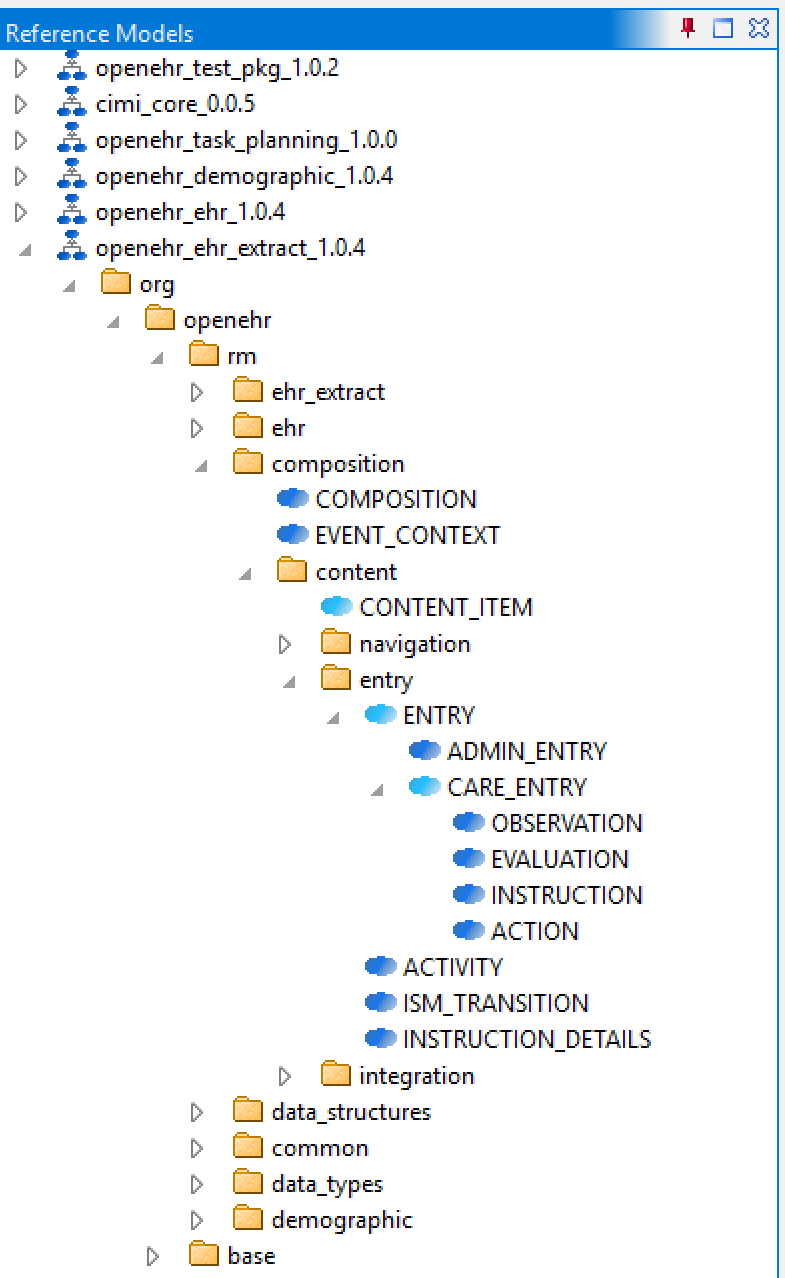 Figure 6. BMM schemas loaded
5. BMM Entities
5.1. Overview
The following UML diagram shows the semantically important part of the BMM, defining classes and types, known collectively as entities.
Figure 9. base.bmm.core Package - Main
The general structure of a BMM consists of a set of classes, whose properties are each typed by an instance of BMM_TYPE, as shown below. Structures specific to generic and container types are shown in relevant sections below.
Figure 10. BMM entities
5.2. The Class / Type Division
One of the foundational distinctions in the BMM is between class and type, in common with the type systems of the modern forms of most object-oriented languages, but in contrast to the UML meta-model. Classes are definitional entities, while 'type' has two meanings:
as the static (design time) type of a class feature (property or function result), and

as the dynamic (run-time) type of the object referred to by or computed by that feature.
In a static model, types are references. For simple types, they refer to the corresponding simple class definition, but for generic types, they refer to a particular usage of a generic class definition. A generic class may generate numerous types.
This central division is reflected in the two classes BMM_CLASS and BMM_TYPE. The common parent class BMM_ENTITY defines a small number of properties that classify both classes and types in a model: entity_metatype, is_abstract and is_primitive. These are combined to produce a String classifier entity_category, which can be used to help visualise elements of a BMM model.
The Boolean attribute is_abstract on an entity indicates an abstract class in a BMM model, or a type based on an abstract class. The attribute is_primitive indicates that a class in a BMM model is considered to be part of a primitive type set (typically corresponding to primitive types in another type system); for types, it is derived from the setting of the base_class. Primitive status has no effect on BMM model semantics, and is provided as a convenience for visualisation and type-system mapping.
The taxonomy represented by BMM_ENTITY.entity_category is illustrated below.
Figure 11. BMM entity taxonomy
5.3. Class Definitions
5.3.1. BMM_ENTITY Class
Class

BMM_ENTITY (abstract)

Description

Abstract parent of type and class meta-types.

Inherit

Constants

Signature

Meaning

1..1

Entity_metatype_simple: String = "simple_entity"

Category of a simple entity, other than enumerated types.

1..1

Entity_metatype_enumeration: String = "enumeration_entity"

Category of any enumeration entity.

1..1

Entity_metatype_generic: String = "generic_entity"

Category of any generic entity that is not a container entity.

1..1

Entity_metatype_parameter: String = "generic_parameter_entity"

Category of a formal generic parameter entity.

1..1

Entity_metatype_container: String = "container_entity"

Category of any container entity.

1..1

Entity_category_modifier_abstract: String = "abstract"

Category modifier indicating an entity is formally defined as abstract, i.e. not-directly instantiable within a BMM model.

1..1

Entity_category_modifier_primitive: String = "primitive"

Category modifier indicating that an entity is considered to be primitive within the type system of a given BMM model. Has no semantic consequences within the BMM.

Functions

Signature

Meaning

1..1
(abstract)

entity_category (): String

Generate a category code-string to use in visualisation, that indicates:

entity meta-type: simple | enumerated | generic | generic_effective | parameter

abstract modifier - abstract status

primitive modifier primitive status

The code is structured as:

entity_metatype [ '-' abstract_modifier ] [ '-' primitive_modifier ]

1..1
(abstract)

entity_metatype (): String

Meta-type of entity, which classifies it according to the kind of formal entity it represents from the following:

simple (non-generic)

generic

enumeration

type parameter

container type

These meta-types don't exactly match the BMM_* types defined in the model, but are useful for displaying models visually.

1..1
(abstract)

is_abstract (): Boolean

If true, indicates an abstract class in a BMM model, or a type based on an abstract class, i.e. a type that cannot be directly instantiated.

1..1
(abstract)

is_primitive (): Boolean

If True, indicates that the entity in a BMM model is considered to relate to a primitive type set, i.e. be a primitive type, or be a definer of one.
8. Model Semantics
8.1. Simple Inheritance
The BMM supports single and multiple inheritance, although it does not distinguish between different types of inheritance relation as some programming languages do. Inheritance is formally defined to be between a class definition (an instance of BMM_CLASS) and a defined type, i.e. a BMM_SIMPLE_TYPE or BMM_GENERIC_TYPE. This is because the inheritance parents of a class may be any of:
a simple class;

a generic class;

a class type, i.e. the effective class definition corresponding to an effective generic type, which has one or more formal parameters substituted.
The general case for all three is represented by the corresponding type, i.e., a simple type or generic type.
The evaluation of inheritance relations defined in a BMM model results in an acyclic graph such that ancestors and descendants can be visualised for any class. The following screen shot shows the ancestors view of a class OBSERVATION.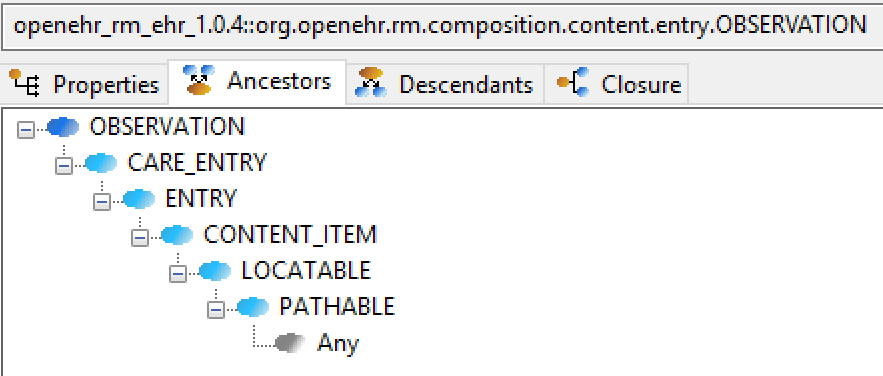 Figure 21. BMM class - ancestors view
The next screenshot shows the descendants view of one of the ancestor classes of the same class.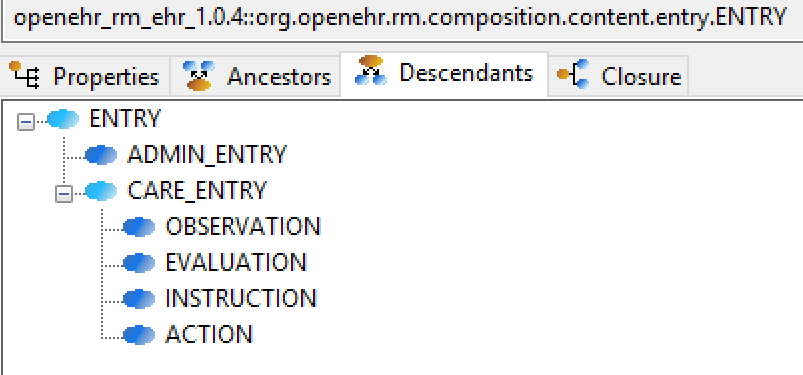 Figure 22. BMM class - descendants view
8.2. Generic Inheritance
Inheritance between generic classes works in the same way as for simple classes, with the additional semantics of formal parameter inheritance, which are as follows:
each unsubstituted formal parameter of the parent type must have a same-named counterpart in the formal parameters of the inheriting class;

the formal parameters of the inheriting class may further constrain any of the ancestor type's formal parameters.
The following example shows the class DV_INTERVAL<T:DV_ORDERED> inheriting from Interval<T:Ordered>. Here the number of open generic parameters remains unchanged, while the type constraint Ordered is being covariantly narrowed to DV_ORDERED, which inherits from the Ordered type.

Figure 23. Generic inheritance, open parameter
A simple class may also inherit from a closed generic type, with the parameters of the latter fixed to specific type(s), as shown in the following example.

Figure 24. Generic inheritance, closed
The general case is that any number of formal generic parameters may be substituted or left open down the inheritance lineage, as shown by the variants in the following example.

Figure 25. Generic inheritance, mixed open and closed
8.3. Multiple Inheritance
Multiple inheritance is typically used in the definition of classes that have a Liskov substitution inheritance relation as well as a re-use inheritance relation. The following shows a class DV_INTERVAL<T> multiply inheriting from Interval<T> and DATA_VALUE, where the latter is considered the substitutable type, and the former an interface re-use.

Figure 26. Multiple inheritance